In the settings screen, you can change the general settings for QuoteStocker. Normally, you have to change the setting only once. After selecting your technical analysis software via 'Preselect' under 'output format', the other default settings will usually be right.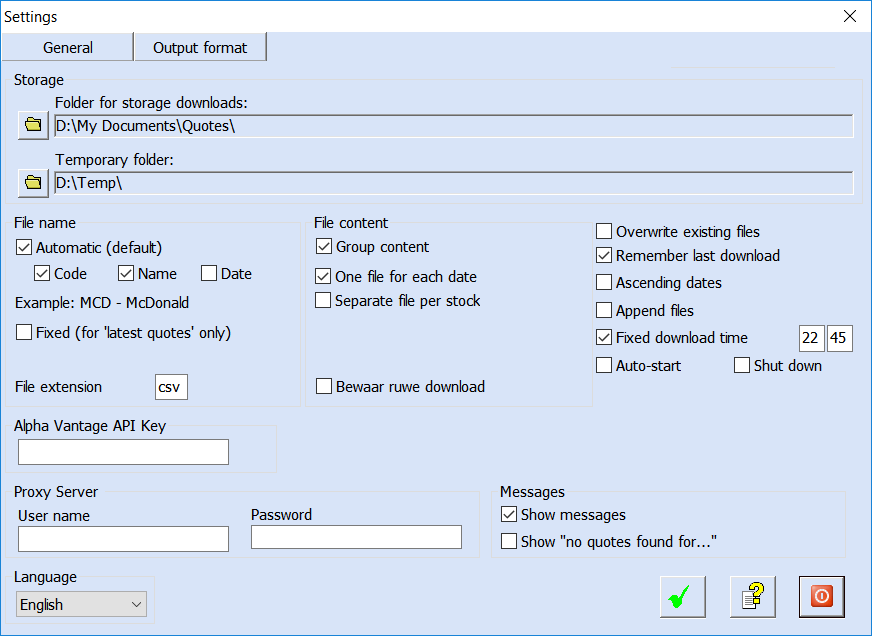 Press the button with green V to save the settings or click on the red cancel button to exit this window.
Download folder
The most important folder is the one where your downloaded files are saved. As default, a folder called 'QuoteStocker downloads' under 'My Documents' is set. You can of course also choose a different folder. For instance a folder that is commonly used by your technical analysis software. When you use for example StockVisor, then the folder  ../StockVisor/Data/Temp is very useful because StockVisor expects new files with quotes in this folder.
Alpha Vantage API Key
If you want to use Alpha Vantage as download source, you need to register at the Alpha Vantage website. After registration you get a code (the API-key) that you need to enter in the this field.
Proxy server
When you connect to the internet via a proxy server, then can fill in your user name and password here.
Language
Under 'Language:' you can select the language of your choice. At the moment you can select between Dutch and English.
Output format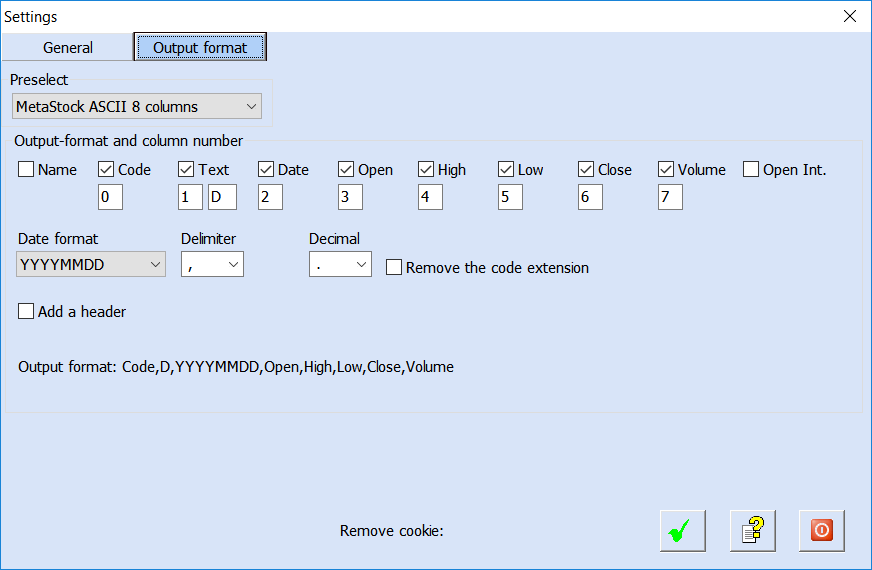 Output-format and column number
QuoteStocker automatically converts the downloaded files into a format that is appropriate for your technical analysis software. In the center of the settings window you see a section where you can select this output format. Under 'Preselect' you can select form a list of 13 different technical analysis programs. After selecting the desired program, a set of predefined settings will be set.
Custom column settings
When your technical analysis software program is not listed, you must make your own settings. Using the check-boxes, you can select which items should be saved. And in the text fields below these check boxes, you can set the column number of the item. Numbering of the columns starts at 0. In the picture above you can see that 'Code' is checked (the code of the stock, index, future, fund) and that the name should be saved in the first column (number 0).
Date format
Under 'Date format:' you can select the notation of the date. Select a notation that is appropriate for your technical analysis software.
Delimiter
Under 'Delimiter:' you can select the character that will delimit the quote data. You can select a comma or a |. In most cases the comma will be the right delimiter. Below the delimiter selection list, you will see a summary of the format settings.
 Header
Finally, you can set to add a header in the downloaded files.
Interested in QuoteStocker? You can order the software right now. Or download the free trial version first.