Using QuoteStocker is simple. The main window shows two parts. In the upper part you can choose what to download:
Latest quotes. These are the quotes of the last reported trade. When the stock exchange is still open, these are intra-day prices
Historical quotes. Download stock quotes over one or more days, moths or years
Stock exchange list. All funds in this list will be downloaded
One fund. This option allows you to select a single fund for downloading. Most of the time you use this option when you want to download the historical quotes of one fund
Download source. Since release 3.7 there are two download sources, Yahoo! and Alpha Vantage.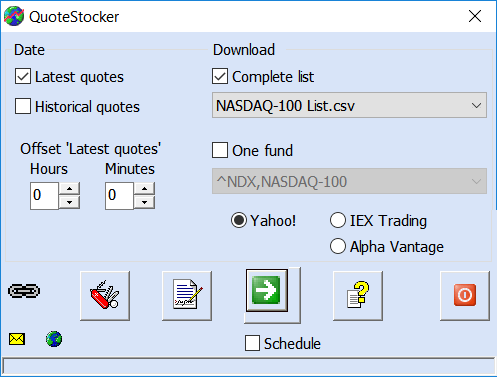 Downloading starts by clicking the green button with the white arrow.
Latest or historical quotes
If you want to download end-of day prices, downloading historical quotes is the best option. You can also use the 'latest quotes' option but in that case you have to wait until closure of the stock exchange. It is best to wait about two hours after the closing of the stock exchange before you can download the end-of-day quotes via 'latest quotes'. When you download stock quotes from different stock exchanges, then you have to watch the different opening hours. This is not necessary when downloading via 'historical quotes'.
Buttons
In the lower part of the window you see a chain link and five buttons. The have the following meaning:

The chain link displays if there is a connection with the internet or not. When there is no connection, a broken chain link is displayed.

With this button you open a window where you can edit the general settings of QuoteStocker. For example: the folder where you want to save the downloaded files, the format of your technical analysis software, the language selection and more. See settings.

This button opens a window where you can edit the download lists. You can add, change and delete funds, stocks, indexes, futures. See edit download list.

Start downloading quotes by clicking this button!

Start the help function.

Exit the program.
Interested in QuoteStocker? You can order the software right now. Or download the free trial version first.